"That seal is the first key to unlocking Ambrosia. It is A Song of the Stars."
A Song of the Stars
is a piece of music in
Professor Layton and the Eternal Diva
. It is one melody of a three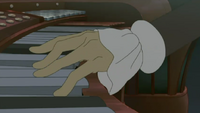 part song hidden in the
Seal of Ambrosia
.
The notes for A Song of the Stars are hidden in the 'night sky' of the seal.

---
A year before Eternal Diva, Jean Descole had managed to transcribe A Song of the Stars along with A Song of the Sea, in order to raise Ambrosia. Before he could attempt to play it, however, the only person who could sing A Song of the Sea, Melina Whistler, died from illness. He worked with her father to build the Detragan, so Descole could try to raise Ambrosia, though he kept his true motives secret.
Shortly after Professor Layton revealed Janice as really being Melina, as the memory download had worked on her, Descole kidnapped Janice. He explained that the lines on the Seal of Ambrosia (what appears to be the night sky) was actually a musical score: A Song of the Stars. A Song of the Sea was a singing accompaniment decrypted from the symbols. Now that Melina could sing again, he blackmailed her into doing so to raise Ambrosia, which promptly failed.
Layton, after managing to reach the top of the Detra-Gigant with Luke to save Melina, then showed Descole why he had failed. What Descole had missed was a third melody which could be seen after turning the seal upside down: A Song of the Sun. He then played A Song of the Stars and A Song of the Sun on the Detragan organ; with Melina's singing, the ruins of Ambrosia rose out of the sea.
Part 6
| | | |
| --- | --- | --- |
| A Song of the Stars | | Length: 37s |
Though A Song of the Sun being A Song of the Stars upside-down is true, the notes were not accurately drawn on the seal due to design and esthetic reasons.
Community content is available under
CC-BY-SA
unless otherwise noted.