Across the Thames is the tenth chapter of Professor Layton and the Unwound Future.

---
Don Paolo leaves the professor's group in order to work on a project. Professor Layton and Luke head back to the hotel, where Flora is waiting for them. She says that Future Luke has already left when something important came up.
Inspector Chelmey then comes in to tell them that he saw someone resembling Claire. Professor Layton asks him whether Claire has any relatives, so Chelmey says that he will check her files. Before the inspector leaves, he asks if they have seen Barton, to which Luke replies that they didn't.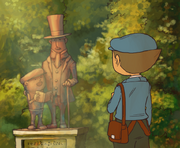 On their way out the hotel, Professor Layton asks Becky if there is a way to cross the Thames. She says there is a bridge, but it is too far away to be useful. Margaret then interrupts them and tells the group about a tunnel that leads to the other side. Unfortunately, the Family closed it down, but
Grafton
may still know a way in. They decide to head to the Black Market, which is where Grafton can usually be found.
Professor Layton remembers seeing Grafton before and asks Luke whether he remembers him as well. But as he does so, they find out that Luke has gone missing. Professor Layton and Flora eventually find him near a statue. Luke then tells Layton that he is sad because his father told him that they would need to move to another place. The professor tells him not to worry as true friends share a special connection with each other.
After informing Luke about the tunnel under the Thames and making the possible connection with the wet clothes of the scientists, they continue to the Black Market to find Grafton.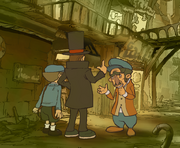 Grafton tells them that there is a door that leads to the tunnel on the river bank near the Thames Arms.
Professor Layton, Luke and Flora find the door and manage to open it by solving the puzzle it contains. Once they enter the tunnel, they notice it has been partially flooded, which explains the wet shoes of the scientists. Despite the complaints from Flora, they manage to cross the tunnel, and find a hidden research facility on the other side.
Community content is available under
CC-BY-SA
unless otherwise noted.