Chinatown is the seventh chapter of Professor Layton and the Unwound Future.

---
The group heads to the casino in order to find Bostro so they can record his voice with the parrot. Luckily, he happens to be outside the casino, where he is yelling against one of the Family goons. After hearing him yell, the parrot is able to mimic his voice perfectly.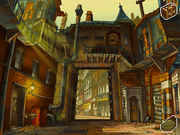 Using the parrot, they manage to fool the guards, and are able to open the door to Chinatown. After a little bit of exploration, they make their way to the back of the town. Here, they are stopped by
Ward
, who tells them that future Layton is currently away, so he can't let them in. While waiting for future Layton to return, the group decides to gather some more information on him in the mean time.
In the library, they run into a man who appears to be in a great hurry. Flora notices that his trousers and shoes are completely soaked, but before they can interrogate him, he has already gone off. A little while later, they find Beasly in a house on the edge of Chinatown. As soon as he starts to talk however, he is swatted by Puzzlette, who is apparently Granny Riddleton's granddaughter. She tells them that she is Granny Riddleton's successor and that she will keep track of their puzzles from now on.
After some more searching, they get some valuable information from Rudolph, who tells them that the future Layton seems to like walking along the Thames. He also tells them about the Thames Arms, a restaurant by the river, which the group makes their next destination.
Community content is available under
CC-BY-SA
unless otherwise noted.