The Master of the Towering Pagoda is the ninth chapter of Professor Layton and the Unwound Future.

---
Professor Layton and company make their way back to Chinatown, but are again stopped by Ward. Ward informs them that future Layton has returned, but that only those who can solve his puzzle may go through the gate. After some quick puzzle solving by Professor Layton, they are granted access.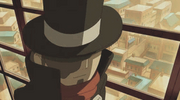 Right before they enter the
Towering Pagoda
, Layton goes off for an unknown reason, but returns shortly. They climb the tower and finally meet future Layton. It turns out that Future Layton is actually Dr. Stahngun who is better known as
Dimitri Allen
. It is revealed that Dimitri posed as future Layton in order to lure the real Layton to future London. Like that, he would be able to use his memories to recreate the failed experiment from 10 years before the present. This would allow him to travel back in time and to save Claire.
Dimitri then reveals that he has taken Bill Hawks hostage. Some bars emerge from the ground and imprison everyone in a cage. Unexpectedly, Professor Layton suddenly removes his hat to reveal he was actually
Don Paolo
in disguise. The real Professor Layton then appears outside of the cage. After Layton opens up the cage, Dimitri manages to escape with the prime minister, and activates an alarm to alert all his men.
The group manages to find a secret passage through which they can escape. Unfortunately, the tunnel is very small, so they decide to split in two groups in order to get out quickly. Future Luke and Flora go on ahead, followed by the group of Professor Layton, Luke and Don Paolo. Once outside, Luke asks Don Paolo why he is helping them, to which he simply replies that they both want the same answers. The Professor then explains how he recognized Don Paolo while he was disguised as Dr. Schrader in the hospital, and that he asked him for help. It is revealed that Don Paolo also had feelings for Claire, which is why he accepted to help.
Community content is available under
CC-BY-SA
unless otherwise noted.