Micah Sasucasa is the owner of a hotel somewhere in the South American jungle. He was the one who had discovered the body of an archaeology team's leader in a storage hut so he was one of the four suspects of the case.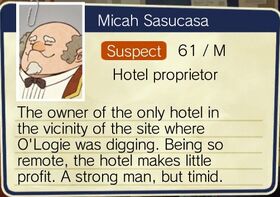 Sasucasa established a hotel at a South American village but given how far the hotel was to the rest of human civilization the hotel rarely brought in huge profits for him. Nevertheless, he continued to manage the hotel there and hired some people from the village such as Mariana Etista.

---
He also managed an old hut which was unique in the fact there is only one key that cannot be duplicated and Sasucass made sure to let all his hotel employees know of that fact. Later on, he found one of the screws of the hinges, which were oddly on the outside of the door, missing so he put adhesive on the hinges.
When an archaeology team led by O'Logie came to the village, they soon found an ancient stone idol at a excavation site and needed a place to store their valuable finds. Sasucasa offered the archaeology team the storage hut to store their finds as the cliff provided natural defenses and there was only one key to the hut.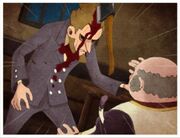 Later that night, he was asked by Etista to accompany her to the hut as she apparently received a call from O'Logie about him witnessing a demon. As they went to the hut, they saw the drunken Doug Scowers and found the door to be locked. Since the key was given to O'Logie beforehand, Sasucasa had no choice to force the door open and found the corpse of O'Logie inside. As it was dark inside, he could not tell if somebody else was in the hut but was certain nobody was hiding as there were no hiding spots but to his surprise, the corpse started to walk towards them. The corpse knocked down a bottle of liquor and soon stopped near the entrance. Frightened by the experience, Sasucasa started to scream and run around.
During the investigation, the drunken archaeologist Sasucasa found outside the hut was detained. The archaeologist turned out to be the brother of Dustin Scowers so half a year later, the investigation was reopened by his request. The walking corpse Sasucasa saw turned out to be an elaborate illusion created by Chico Careta, who was convinced to kill O'Logie by Etista. Before she was questioned, the hotel employee fled the village.
After the investigation ended, Careta brought back a stone statue to the village, much to Sasucasa's surprise.
His name comes from the Spanish phrase "mi casa es su casa", which means "my house is your house".
Community content is available under
CC-BY-SA
unless otherwise noted.