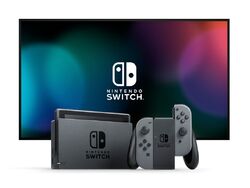 The Nintendo Switch (formerly known by its codename NX) is a hybrid video game console created by Nintendo. It serves as the seventh and current home console for the company, succeeding the Wii U.
The Nintendo Switch functions as a hybrid home and handheld console, as it can be played at home and on the go with its numerous play styles. The Nintendo Switch was unveiled on October 20, 2016 and released worldwide on March 3, 2017.
Development
Edit
The Nintendo Switch began development in 2013 in an attempt to bring back sales to Nintendo after lackluster success with the Wii U and marketing competition from mobile gaming. Revealed to the public on October 20, 2016, the Nintendo Switch was stated to not be "the successor to the Wii U nor to the 3DS", but as the system was nearing to its release date, the Wii U's production cycle ended on January 2017.
The Nintendo Switch acts as a hybrid home and handheld console. As a "home" console, the system itself can be docked on the Nintendo Switch Dock, where it can connect to a TV. However, the system can be taken out of the Dock and be used as a handheld device, with or without the Joy-Cons (the controllers of the system) attached. The Joy-Cons can be attached onto the system and on the Joy-Con Grip, where it can serve as a traditional controller.
Community content is available under
CC-BY-SA
unless otherwise noted.