A Blind Escape
is a puzzle in
Professor Layton and the Unwound Future
. The puzzle must be solved in order to progress the story.
Puzzle
In the dark maze of tunnels below, you can't turn unless you hit a wall. Following this rule, you need to reach the goal without taking the same path twice or running into any dead ends.
Which route should you take? Draw a line to plan your escape!
Hints



Click a Tab to reveal the Hint.
Solution
Incorrect
Too bad!
That route won't get you out.
Correct
Great escape!
You found the way out!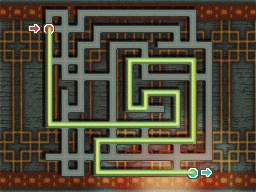 A big thanks to http://professorlayton3walkthrough.blogspot.com
Community content is available under
CC-BY-SA
unless otherwise noted.