A Dicey Treasure Map is a weekly puzzle in Professor Layton and the Unwound Future.
A treasure is buried beneath the far-left square of the six bland squares blow.
Place the six dice panels on the blank squares in a way that will reveal the hidden treasure's location to anyone.



Click a Tab to reveal the Hint.
Incorrect
Edit
Too bad!
Think about how you could point out the hidden treasure's location...
Yar!
When rotated and arranged correctly, the dice panels can form an arrow pointing toward the red dot about the treasure. Surely anyone would investigate this area!
I wonder what the treasure is, anyway...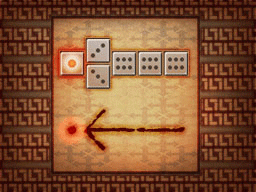 A big thanks to http://professorlayton3walkthrough.blogspot.com
Community content is available under
CC-BY-SA
unless otherwise noted.