A Stacked Deck
is a puzzle in
Professor Layton and the Unwound Future
.
Puzzle
There are 52 cards in the deck below--26 black and 26 red--and no jokers.
After shuffling the deck and randomly cutting it in two, you count 23 cards in the stack on the left.
So, what's the difference between the number of red cards in the left stack and the number of black cards in the right stack?
Hints



Click a Tab to reveal the Hint.
Solution
Incorrect
Too bad!
It's clear this is a math problem of sorts, but it's hard to figure out what you're supposed to calculate.
Try plugging in some numbers, and see if you don't stumble upon something...
Correct
You aced it!
There will always be three more black cards in the pile on the right than there are red cards on the left.
You can use an equation to solve this puzzle, but it's also fun to just plug in some random numbers and figure it out that way. Once you start noticing that there's a consistent difference no matter what numbers you pick, it's really exciting!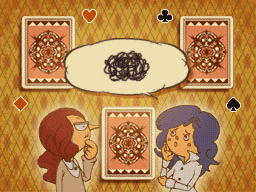 A big thanks to http://professorlayton3walkthrough.blogspot.com
Community content is available under
CC-BY-SA
unless otherwise noted.