A Toasty Toast
is a puzzle in
Professor Layton and the Miracle Mask
.
Puzzle
US Version
After a long day of performing, the members of the circus troupe have changed into their street clothes and are celebrating another successful show with some hot chocolate!
There is at least one member of the troupe who is not present. Who's in the tent? Select each person who is there.
UK Version
After finishing work for the day and changing back into their normal clothes, the members of a circus troupe gather in the big tent to celebrate another successful performance. It's a bit nippy in there at night, so they're warming up with a few rounds of hot chocolate.
It's hard to tell just by looking at the silhouettes, but there's at least one member of the troupe missing. Who is in the tent? Select each person who is present.
Hints



Click a Tab to reveal the Hint.
Solution
Incorrect
Too bad.
Take a deep breath, and try again.
Correct
Correct!
All members aside from the chap second from the right are present and accounted for.
Let's hope they don't stay up too late. They've got another busy day ahead of them.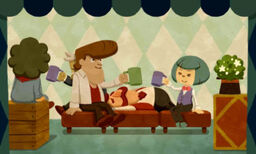 A big thanks to http://www.youtube.com/user/LaytonKyouju
Community content is available under
CC-BY-SA
unless otherwise noted.