A Toasty Toast
is a puzzle in
Professor Layton and the Miracle Mask
.
Puzzle
After a long day of performing, the members of the circus troupe have changed into their street clothes and are celebrating another successful show with some hot chocolate!
There is at least one member of the troupe who is not present. Who's in the tent? Select each person who is there.
Hints



Click a Tab to reveal the Hint.
Solution
Incorrect
Too bad.
Take a deep breath, and try again.
Correct
Correct!
All members aside from the chap second from the right are present and accounted for.
Let's hope they don't stay up too late. They've got another busy day ahead of them.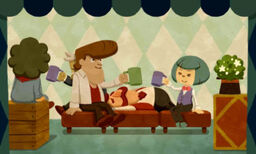 A big thanks to http://www.youtube.com/user/LaytonKyouju