An Extra Block
is a puzzle in
Professor Layton and the Unwound Future
.
Puzzle
The green frame and six orange blocks below are all composed of identical equilateral triangles.
The frame can be perfectly filled using five of the six blocks. The blocks can be flipped and rotated in any direction to fit into the frame.
Circle the one block that isn't used!
Hints



Click a Tab to reveal the Hint.
Solution
Incorrect
Too bad!
Have you tried counting all the triangles?
Correct
Excellent!
Was it tough to assemble in your head? There's actually a really easy way to solve this puzzle. Did you figure it out?
The frame is composed of 22 identical equilateral triangles. The six blocks together are composed of 24 triangles, which is two too many. This means the unused block must be the one made from only two triangles!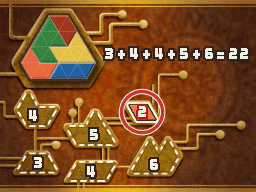 A big thanks to http://professorlayton3walkthrough.blogspot.com
Community content is available under
CC-BY-SA
unless otherwise noted.