Ancient Arti-Facts
is a puzzle in
Professor Layton and the Miracle Mask
. The puzzle must be solved in order to progress the story.
Puzzle
These explorers each found a unique object at a different depth in the ruins. Use the following statements to fill in the facts about each artifact, its material, and its depth.
1. The doll is made of wood.
2. B dug 100 cm deeper than D who found something made of stone at 50 cm deep.
3. An item made of blue-tinged metal was found deeper down than the wooden one.
4. The pot is made of sandy clay.
5. The coin was found in a shallower place than the sword.

Hints



Click a Tab to reveal the Hint.
Solution
Incorrect
Too bad.
Read over the statements carefully, and make sure everything fits.
Correct
Correct!
A found a metal blade at 200 cm deep.
B found a wooden doll at 150 cm deep.
C found a clay pot at 100 cm deep.
D found a stone coin at 50 cm deep.

Quite a successful expedition!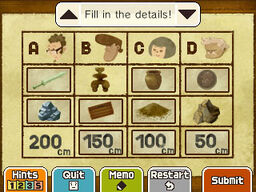 A big thanks to http://www.youtube.com/user/LaytonKyouju
Community content is available under
CC-BY-SA
unless otherwise noted.