Brave the Caves
is a puzzle in
Professor Layton and the Miracle Mask
.
Puzzle
This young explorer wants to go from point 1 to point 5. To do so, he must pass through the correct four caves in the cave complex shown. The wrong caves are filled with horrible traps.
He has with him four photos, A to D, taken by an explorer who made it through successfully. Work out the correct route using the photographs. However, keep in mind that you don't know where the photos were taken.
Hints



Click a Tab to reveal the Hint.
Solution
Incorrect
Too bad.
Try again before he runs into one of those horrible traps!
Correct
Correct!
If you take a good look at the scenery in the distance of each photo, you can tell where they were taken.
The light will be on the left-hand side of a cave that bends right, and vice versa. With this in mind, you can work out the correct route.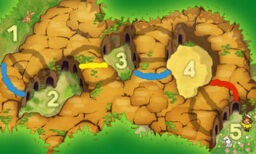 A big thanks to http://www.youtube.com/user/LaytonKyouju
Community content is available under
CC-BY-SA
unless otherwise noted.