Embroidery Enigma
is a puzzle in
Professor Layton and the Azran Legacy
. The puzzle must be solved in order to progress the story.
Puzzle
Four different patch designs have been sewn onto this plain handkerchief in a particular sequence. The pattern starts in the top-left corner and follows the orange line towards the centre.
Study the sequence carefully and work out which patches belong in the four empty spaces on the handkerchief. Place the patches in the appropriate spots.
Hints



Click a Tab to reveal the Hint.
Solution
Incorrect
Too bad.
Once you spot the sequence, you'll see its actually very simple.
Correct
You've got it all sewn up!
A new patch design is added at the end of each stage of the sequence. Once all four designs have been added, the whole thing starts again from the beginning.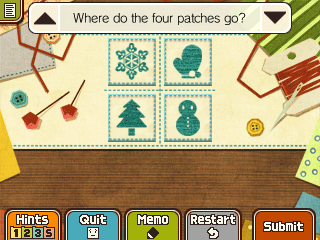 Community content is available under
CC-BY-SA
unless otherwise noted.