Equilateral Triangle is a puzzle in Professor Layton and the Curious Village.
Puzzle
In the drawing below, 10 coins are arranged to form an equilateral triangle.
The triangle is pointing up right now, but can you get it to point down by moving three of the coins?
Hints
Solution
Incorrect
Too bad!
You're going to have to think creatively if you want to change the triangle direction by moving only three coins.
Correct
That's right!
The interesting thing about this puzzle is the way the whole triangle changes shape with the simple shifting of a few coins.
The trick is to think about the corners on the first triangle. Then it's easy to see the changes you need to make.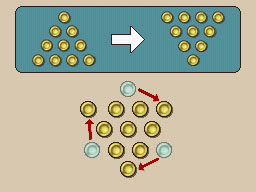 A big thanks to http://professorlaytonwalkthrough.blogspot.com