Flower Garden
is a puzzle in the European version of
Professor Layton and the Curious Village
. For the puzzle in the American version of the game, go
here
.
Puzzle
You decide to rent some space in a flower garden. Informing the owner of the garden that you need enough space for 12 plants, he tells you that there are four suitable allotments available, A-D.
The rent for each allotment is calculated by area, but on top of the rent for the 12 plant-sized spaces, there is also a separate charge for the fence around the whole allotment. With this in mind, can you tell which allotment has the most expensive rent?
Hints



Click a Tab to reveal the Hint.
Solution
Incorrect
Too bad!
Correct
That's right! D is the most expensive.
When considering how many sides of each plant-sized square need to be fenced, you don't even need to count the length of fence in order to see that D will cost the most.
By the way, if you do add up the lengths for all the allotments, you'll find that A requires 14 sides be fenced, B 20, C 18 and D 26. So you should, of course, choose allotment A.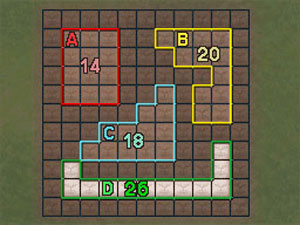 A big thanks to http://professorlaytonwalkthrough.blogspot.com
Community content is available under
CC-BY-SA
unless otherwise noted.