How Many Are Left?
is a puzzle in
Professor Layton and the Curious Village
.
Puzzle
Ten candles stand burning in a dining room. A strong breeze blows in through an open window and extinguishes two of them. Checking back in on the candles later, you see that one more candle has gone out. To make sure no more flames go out, you shut the window. Assuming the wind doesn't extinguish any more candles, how many candles do you have left in the end?
Hints



Click a Tab to reveal the Hint.
Solution
Incorrect
Too bad!
Think about the problem one more time. The puzzle asks you to figure out how many candles you have "left in the end," but what does that actually mean?
Correct
That's correct!
The seven candles that manage to stay lit will melt down completely. The only candles that remain in the end are the three that are extinguished by the wind and therefore stay intact.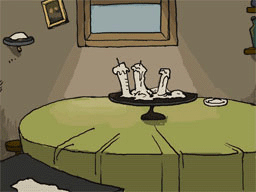 A big thanks to http://professorlaytonwalkthrough.blogspot.com