How Many Sheets?
is a puzzle in
Professor Layton and the Curious Village
.
Puzzle
Several rectangular sheets of transparent film are arranged on top of each other as shown. The lines represent areas where one sheet overlaps with another.
At the thickest point of this pile, how many sheets are overlapping?
Hints



Click a Tab to reveal the Hint.
Solution
Incorrect
Nope!
Study where each sheet of film begins and ends.
Correct
That's right.
This puzzle seems straightforward, but it's quite formidable when you get right down to it.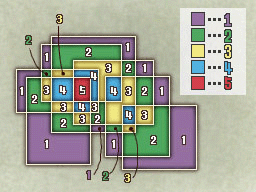 A big thanks to http://professorlaytonwalkthrough.blogspot.com
Community content is available under
CC-BY-SA
unless otherwise noted.