Image Equation is a puzzle in Professor Layton and the Curious Village.
Puzzle
[
]
Using the following clues, break the code below and figure out what needs to go in the blank at the bottom of the screen.
Hints
[
]
Solution
[
]
Incorrect
[
]
Too bad!
You're going to have to piece together the answer for yourself...
Correct
[
]
Good job! As you guessed, the answer is handcuff. The key to this puzzle is that each option is a compound word that can be broken into two parts.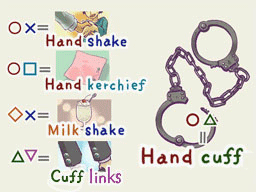 A big thanks to http://professorlaytonwalkthrough.blogspot.com