Letter Box Plate is a puzzle in Professor Layton and the Spectre's Call. For the puzzle in the American version of the game, go here.
Puzzle
It looks as though the letter box was jerked open at some point and the pieces making up the number plate fell off.
Apparently, the plate used to read "1234", but it's hard to tell how the pieces fitted together.
Can you arrange the pieces so the letter box looks the way it did before?
Hints
Solution
Correct
Correct!
The number 1234 is formed by the spaces between the pieces, not the pieces themselves.
Surely the streets around here can't be that long, though?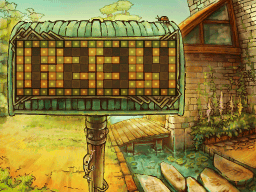 A big thanks to http://professorlayton4walkthrough.blogspot.com