Lunar Weight
is a puzzle in the European version of
Professor Layton and the Curious Village
. For the puzzle in the American version of the game, go
here
.
Puzzle
The force of gravity on the moon is about one-sixth of that on Earth. This means that on the moon, an object weighs about one-sixth of what it does on Earth. If you bring a 600 gram weight and a scale to the moon and gently place the weight on the scale, which of the following weights will the scale indicate?
A: 0 grams
B: Lighter than 100 grams
C: Exactly 100 grams
D: Heavier than 100 grams
Hints



Click a Tab to reveal the Hint.
Solution
Incorrect
Try again!
Think about what parts the scale is made up of.
Correct
That's right!
The scale will indicate a weight of less than 100g.
A scale is always set to zero with the weight of the scale tray included. So when the same scale is brought to the moon, the tray weighs one-sixth of what it did when the scale was set, and the scale will now indicate less than 0g when nothing is in the tray.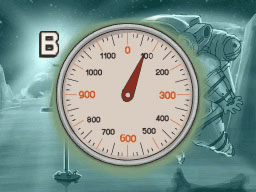 A big thanks to http://professorlaytonwalkthrough.blogspot.com
Community content is available under
CC-BY-SA
unless otherwise noted.