Making the Die
is a puzzle in the UK version of
Professor Layton and the Curious Village
.
On a typical die, numbers on opposite faces add up to seven.
Can you cut a shape out of this card that will form such a die when folded into a cube?
That's right!
If you look for an area where the numbers 1 to 6 are all connected, it's easy.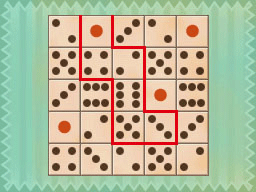 A big thanks to http://professorlaytonwalkthrough.blogspot.com
Community content is available under
CC-BY-SA
unless otherwise noted.