Mangled Math
is a puzzle in
Professor Layton and the Miracle Mask
. The puzzle must be solved in order to progress the story.
Puzzle
Dalston has posed a math problem to Hershel. It's written on a homework sheet, but it's torn in several places, making it very difficult to read.
Dalston smirks as he watches Hershel examine the puzzle. With an air of self-satisfaction, he says, "Still struggling? But this is the simplest math problem ever!"
Can you help Hershel work out the answer to the problem? Write down the number.
Hints



Click a Tab to reveal the Hint.
Solution
Incorrect
Too bad.
Dalston says it's a simple problem. That can't be right...or can it?
Correct
Correct! Hope you didn't tear your hair out.
From where Dalston is standing, the torn parts of the page appear to form a much simpler math problem: 17 - 2. The answer, of course, is 15.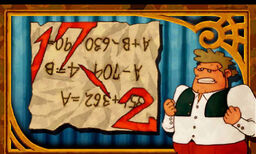 A big thanks to http://www.youtube.com/user/LaytonKyouju
Community content is available under
CC-BY-SA
unless otherwise noted.