Monster! is a puzzle in Professor Layton and the Curious Village.
Puzzle
Oh, no! The town is in grave peril!
As you read this, a fearsome monster is launching an attack on St. Mystere! Ward off the beast by stabbing it in the eye! And for goodness' sake, HURRY!
Hints
Solution
Incorrect
Too bad!
That beast is there somewhere, so keep searching.
Correct
Well done!
It seems the fiend was hiding in the night sky. You certainly gave it what for!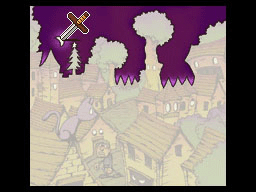 A big thanks to http://professorlaytonwalkthrough.blogspot.com