OTTF? is a puzzle in Professor Layton and the Curious Village. For the puzzle in the European version of the game, go here.
Puzzle
Here you have a set of small paper cards. On each card is a single letter, but one of the cards is missing its letter. What letter belongs on the blank card?
Hints
Solution
Incorrect
Nope.
Look for a pattern or rule that applies to this arrangement of letters.
Correct
That's right!
The letters written on the paper correspond to the first letter in the numbers one through 10.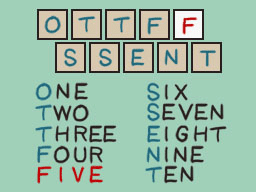 A big thanks to http://professorlaytonwalkthrough.blogspot.com