One-Line Puzzle 1 is a puzzle in Professor Layton and the Curious Village.
Puzzle
Have you heard of one-line puzzles? The idea is to place your pen to paper and draw a shape without lifting your pen from the pad or retracing any part of the line. You can, however, cross lines.
Now that you're familiar with the concept, look at the four pictures below. One of them cannot be drawn with one line.
Which one is it?
Hints
Solution
Incorrect
Too bad!
It certainly looks like each picture was created in one stroke, but take a second look.
Correct
Very nice!
There's actually a very easy way to tell whether or not a given picture has been drawn in one stroke.
This method will be revealed to you after you solve one more of these riddles.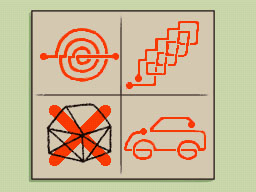 A big thanks to http://professorlaytonwalkthrough.blogspot.com