Photo Finish is a puzzle in Professor Layton and the Unwound Future. The puzzle must be solved in order to progress the story.
Puzzle
US Version
This finish-line photo of a race has been cut into strips, which were then mixed up. The runners finished the race in the order in the photo.
Who came in third? Circle the answer.
UK Version
This photo, taken at the finishing line of a race, has been cut into strips and mixed up.
Before it was cut, the photo displayed the runners in the order they finished the race.
Which of the runners came third? Circle the letter that corresponds to your answer.
Hints
Click a Tab to reveal the Hint.
Solution
Incorrect
Too bad!
Give it another try.
Correct
Good eye!
US Version
F came in third by a nose.
UK Version
F came third by a nose.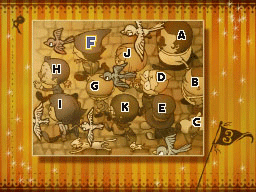 A big thanks to http://professorlayton3walkthrough.blogspot.com
Community content is available under
CC-BY-SA
unless otherwise noted.