Pieces of Chocolate
(
Choc-hole-ate
in the UK version) is a puzzle in
Professor Layton and the Unwound Future
.
Puzzle
A 5 X 10 centimeter chocolate bar has a 5 X 1 centimeter piece broken off the right side, as shown in the image below. How many more 5 X 1 centimeter pieces can you break off of the remaining chocolate bar?
Also, there's a 5-millimeter hole in the bar 1 centimeter in from the left side and 2.5 centimeters up from the bottom.
Any piece that has even a tiny bit of this hole in it can't be included in your answer.
Hints



Click a Tab to reveal the Hint.
Solution
Incorrect
Too bad!
You just need to think about it from a couple of different angles.
Correct
Cocoa-rrect!
Eight more pieces is exactly right.
As shown in the image above, if you break up the left side in a way that includes the entire hole in one piece, you can exclude that one and still make eight more pieces.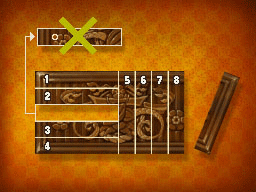 A big thanks to http://professorlayton3walkthrough.blogspot.com
Community content is available under
CC-BY-SA
unless otherwise noted.