Pigpen Partitions is a puzzle in Professor Layton and the Curious Village.
Puzzle
Seven prize-winning pigs are lazing about in a pen.
To make sure that the pigs don't fight with each other, you've decided to section off the pen with three ropes.
Can you hitch the ropes up to some of the posts shown below and separate each pig from its neighbor? Remember, not even a snout or curly tail can sneak over each partition!
Hints
Solution
Incorrect
Try again!
Hurry and do something before the pigs start fighting with each other!
Have you ever seen a pigfight? It's not a pretty sight!
Correct
Good job!
US Version
You've made a lot of pigs very happy.
UK Version
Even the pigs are bound to be happy with this arrangement.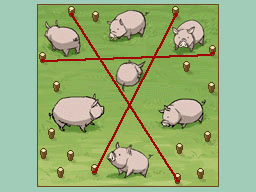 A big thanks to http://professorlaytonwalkthrough.blogspot.com