Pin Board Shapes
is a puzzle in
Professor Layton and the Curious Village
.
Puzzle
The cross shape on the pin board below has nine pins inside it and 16 outside it.
Remember that example, because now it's your turn to construct a shape on the board. Can you create a cross that has 17 pins inside it and 16 outside it?
Feel free to make your cross any size you like.
Hints



Click a Tab to reveal the Hint.
Solution
Incorrect
Give it another shot!
Feel free to make the cross whatever size you like. The same goes for the direction it faces...
Correct
That's right!
This puzzle is a cinch once you figure out that the cross needs to be placed diagonally on the board.
Sometimes the only thing you really need to solve a puzzle is a little creative thinking.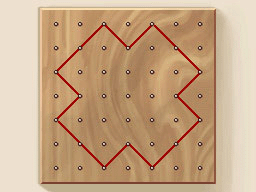 A big thanks to http://professorlaytonwalkthrough.blogspot.com
Community content is available under
CC-BY-SA
unless otherwise noted.