Sharing the Burden
is a puzzle in
Professor Layton and the Miracle Mask
. The puzzle must be solved in order to progress the story.
Puzzle
Two porters have to carry six pieces of luggage of unknown weight. Each piece weighs a different amount, and they are labeled in order of weight from A to F, with A being the lightest and F the heaviest. Each piece weighs up to 10 lbs., and the total weight is 40 lbs. or less.
Each porter can carry up to 20 lbs. at once, and between them they want to carry it all in one trip. How should they divide up the luggage between them? Pile it all up in their hands, and then ring the bell when ready!
Hints



Click a Tab to reveal the Hint.
Solution
Correct
Correct!
A luggage crisis has been averted.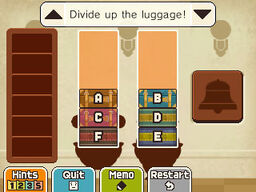 A big thanks to http://www.youtube.com/user/LaytonKyouju
Community content is available under
CC-BY-SA
unless otherwise noted.