Stamp Stumper
is a puzzle in
Professor Layton and the Curious Village
.
Puzzle
Your friend just got back from the post office where she purchased a sheet of stamps with values ranging from $.10 to $1.00.
First, your friend cut out the $1.00 stamp and set it aside. Then she divided the remaining stamps into seven uniquely shaped bunches, each with a total value of $1.00.
Can you divide this sheet of stamps the same way your friend did?
Hints



Click a Tab to reveal the Hint.
Solution
Incorrect
Don't give up!
It's not enough just to divide the stamps into $1.00 groups. Each of the seven groups must be a different shape.
The diagram here shows the stamps divided into $1.00 segments. However, the green sections are the same shape, so it's clear that this particular configuration isn't a valid solution.
Correct
Well done!
There are several ways to divide all the stamps into $1.00 groups, but this is the only way where the groups all form different shapes.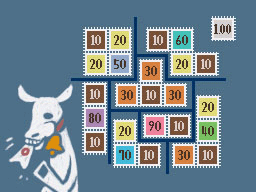 A big thanks to http://professorlaytonwalkthrough.blogspot.com
Community content is available under
CC-BY-SA
unless otherwise noted.