The Biggest Star
is a puzzle in
Professor Layton and the Curious Village
. For the puzzle in the European version of the game, go
here
.
Puzzle
Legend has it that people used to stare up at the heavens and find images of animals or important events in the constellations.
Looking up at the star-filled sky here, try to connect the five largest objects in space to form the largest five-pointed star possible.
Connect stars by drawing a line between them. Make sure that your line doesn't pass through another star along the way.
Hints



Click a Tab to reveal the Hint.
Solution
Incorrect
Too bad!
You need to draw a big, beautiful star! Connect five large "objects in space"...
Correct
You're right!
You need to connect the four stars to the earth in order to form a star like the one shown here.
It looks like people are still finding inspiration in the stars.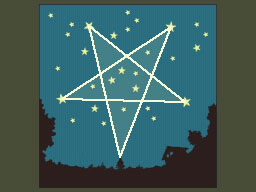 A big thanks to http://professorlaytonwalkthrough.blogspot.com
Community content is available under
CC-BY-SA
unless otherwise noted.