The Four Weights
is a puzzle in
Professor Layton and the Last Specter
. The puzzle must be solved in order to progress the story.
Puzzle
A rack contains nine identical-looking weights ranging from 1 kg to 9 kg. Four of these weights were removed from rack and arranged side by side. One pair of side-by-side weights had a weight difference of 8 kg, while two pairs had a weight difference of 7 kg.
Which weights were removed from the rack, and how were they arranged?
Hints



Click a Tab to reveal the Hint.
Solution
Incorrect
Too bad! Check you work to make sure you haven't made any miscalculations.
Correct
Excellent!
There are two possible answers: 8, 1, 9, 2 or 2, 9, 1, 8. The only way to get the 8 kg difference is to have the 1ks and 9kg weights next to each other.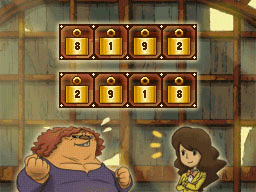 A big thanks to http://professorlayton4walkthrough.blogspot.com