The Shattered Vase is a puzzle in Professor Layton and the Curious Village.
Puzzle
Someone knocked over this fabulous vase and shattered it.
Fit the pieces together and restore the vase to its original shape. There's one catch, though. Mixed in with the pieces is a single piece from a different vase.
Hints
Solution
Incorrect
Nope!
Give this one another try.
Correct
Good job!
Repairing the vase wasn't much of a challenge, was it? Oh, if only fixing things in real life were this simple.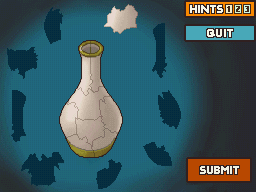 A big thanks to http://professorlaytonwalkthrough.blogspot.com