The Vanishing Tower is a puzzle in Professor Layton and the Curious Village.
Puzzle
[
]
Behold the glorious Eiffel Tower, soaring monument to Paris, the city of light and love.
At over 1,000 feet tall, the tower is massive, but there is a way to make the entire structure vanish right before your very eyes by using nothing but two coins.
How does one accomplish this feat?
Hints
[
]
Solution
[
]
Incorrect
[
]
Think again about this one.
Look past the two coins to find your answer...Or rather, try to look past the two coins.
Correct
[
]
Nice job!
If you cover your eyes with the two coins, any object will disappear...from your field of vision, that is.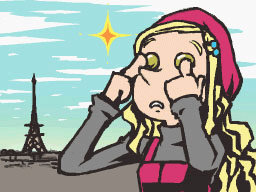 Trivia
[
]
In the Japanese version, this puzzle is listed as Weekly Puzzle 20.
This puzzle is similar to a Japanese-exclusive puzzle (Puzzle 063), where you had to help a husband use his two hands to hide items away from his wife.
A big thanks to http://professorlaytonwalkthrough.blogspot.com