Toy Chests
is a weekly puzzle in
Professor Layton and the Last Specter
.
There are four toy chests in the nursery with symbols on them.
Chest A has one teddy bear.
Chest B has two teddy bears.
Chest C has one teddy bear.
How many teddy bears are there in chest D?



Click a Tab to reveal the Hint.
Incorrect
Edit
Too bad!
Try working it out again.
Correct!
There are no bears in chest D.
The marks on the chests are actually squashed versions of the equations written above.
Unlike the other chests, the equation on chest D comes to 0, which can only mean that there's nothing in it!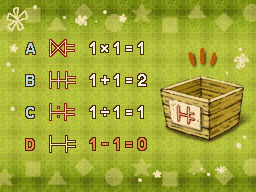 A big thanks to http://professorlayton4walkthrough.blogspot.com
Community content is available under
CC-BY-SA
unless otherwise noted.