Twins and Triplets
is a weekly puzzle in
Professor Layton and the Last Specter
.
Two twin sisters were born only seconds apart from one another. The older twin got married and had triplets when she was 25 years old.
How old will the twin sisters be when their combined age equals the combined age of the triplet daugters?



Click a Tab to reveal the Hint.
Incorrect
Edit
Too bad!
Try adding it up again.
Correct!
When the twins are 75 years old, the triplets will be 50 years old. The combined ages of each will then be 150.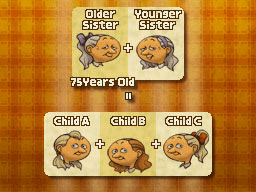 A big thanks to http://professorlayton4walkthrough.blogspot.com
Community content is available under
CC-BY-SA
unless otherwise noted.