Where's Mother?
(
Where's Mum?
in the UK version) is a puzzle in
Professor Layton and the Miracle Mask
. The puzzle must be solved in order to progress the story.
Puzzle
This little girl has lost her mommy.
"Me mam has red hair. Oh aye, and she has a pink handbag with a bear on it!"
There's a group of people talking nearby.
A: "Look how stylish everyone is today!"
B: "Hold on. This handbag isn't mine!"
C: "Hey! I may dress girly, but I'm a man!"
D: "My handbag is a blue one."
E: "Hmm, this isn't my bag. It's got the wrong pattern."
Who is the girl's mom? Choose from A to E.
Hints



Click a Tab to reveal the Hint.
Solution
Incorrect
Too bad.
Quick, find the girl's mom for her!
Correct
You've got it in the bag!
The correct answer is B. Thank goodness the little girl found her mom!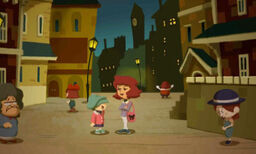 A big thanks to http://www.youtube.com/user/LaytonKyouju