Which Boxes to Move? is a puzzle in Professor Layton and the Curious Village.
Puzzle
In preparation for your big move, you've packed your belongings into 20 boxes and arranged them as shown below. With everything packed, you are now ready to label each box with its contents. In order to do so, though, you'll need to move a few boxes around.
How many of the boxes can't be labeled without rearranging the stacks?
Hints
Solution
Incorrect
Too bad!
There are 20 boxes in total. Try to figure out how many boxes are on each level of the pile.
Correct
Quite right!
Moving down from the top level, you have one, four, six, and nine boxes. The only boxes you can't access without rearranging things are the three indicated in the above picture.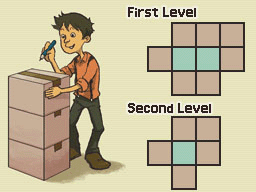 A big thanks to http://professorlaytonwalkthrough.blogspot.com