Wire to Wire
(
The Winding Cable
in the UK version) is a puzzle in
Professor Layton and the Last Specter
.
Puzzle
Your job is to connect the green wire in the top-left corner with the green wire in the bottom-right corner using the blue and red segments of the cable.
The segments must alternate from red to blue and must run through every single square on the grid.
Two segments of cable are already in place. Use your stylus to move, rotate, and place the red and blue segments on the grid and connect the green wires.
Hints



Click a Tab to reveal the Hint.
Solution
Incorrect
Too bad!
Don't forget the rules...
Correct
Shocking!
It's a pretty complicated path from wire to wire, but everything is connected perfectly.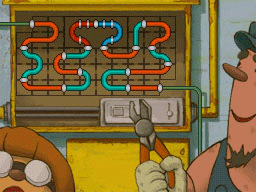 A big thanks to http://professorlayton4walkthrough.blogspot.com