Wolves and Chicks
is a puzzle in
Professor Layton and the Curious Village
.
Puzzle
Get the three wolves and three chicks seen below to the other side of the river while obeying the following conditions.
-No more than two animals can ride the raft at the same time.
-There must be at least one animal on the raft in order for it to move.
-If more wolves than chicks stay on either side of the river, the wolves will eat the chicks, and you'll have to start over.
You can move the raft as many times as you like, but this feat can be accomplished in as few as 11 moves.
Hints



Click a Tab to reveal the Hint.
Solution
Correct
Well done!
This puzzle can be solved in as few as 11 trips. How many trips did it take you?
Fun fact time! There are several variations of this type of river-crossing puzzle, and they've appeared in writings dating back to over 1,000 years ago.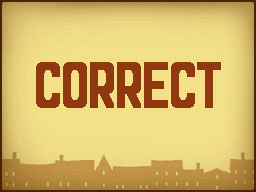 A big thanks to http://professorlaytonwalkthrough.blogspot.com